With the recent explosion of interest in so-called "mommy porn" books like the Fifty Shades of Grey trilogy, inquiring minds wanted to know if these so called explicit books were actually anything to get worked up about. With PoolBoy readers in mind, I swallowed my pride and dove into the world of suburban housewife smut. And I'm so, so glad I did…so that I can save you the embarrassment and wasted hours of your life.
Let's start with the main perpetrator, E.L. James's Fifty Shades of Grey. James wrote the story of Anastasia Steele and Christian Grey originally as Twilight fan fiction (and I should have just heeded that red flag, damnit!)…only with Bella and Edward having a BDSM sexual relationship. See, Stephenie Meyers, this is what happens when you write a ultra popular love triangle with absolutely no sex until the very end, and even then the heroine gets pregnant with a monster baby. Imagine the blue balls on teen girls and women the world over! That kind of sexual tension left unfullfilled was bound to have frightening repercussions. The Fifty Shades trilogy is proof.
If you liked the controlling, stalker behavior of Edward Cullen and wished to add spanking and dictating terms for food, exercise, bathing, and clothes via a written contract, then you will LOVE Fifty Shades. It's basically Twilight minus vampires and werewolves and plus pretty lame sex scenes, minor bondage, and an even MORE annoying heroine. Seriously, Anastasia Steele could be Bella's idiot, big city cousin. She's the worst.
You know what else is the worst? The writing in Fifty Shades. The book could have used a better editor and/or a totally different author. I read a great review somewhere that actually counted the number of times Ana "bit her lip," Christian frowned in response, Ana thought Jeez, and so on. And most of the counts were up in the 80′s. Think of some new ways to describe reactions or put some more thought into your characters please! Or here's a novel idea, THINK UP NEW, ORIGINAL CHARACTERS.
Ok, now let's talk sex. The Fifty Shades trilogy has been hailed as smut for moms, which apparently involves all kinds of whips and chains.  BDSM? Not so much. Sure, Christian has a "red room of pain," but all that really happens in there  is some light spanking and a gentle flogging that sends BellaAnastasia to tears. Where's all the anal fisting I was promised!? This sex was more vanilla than vampire Bella-Edward staying up all night to bang their everlasting teenage lives away. If this is what is getting mom's off today, then I need to get PoolBoy subscriptions and copies of The Last Werewolf and The Bride Stripped Bare into a lot more hands!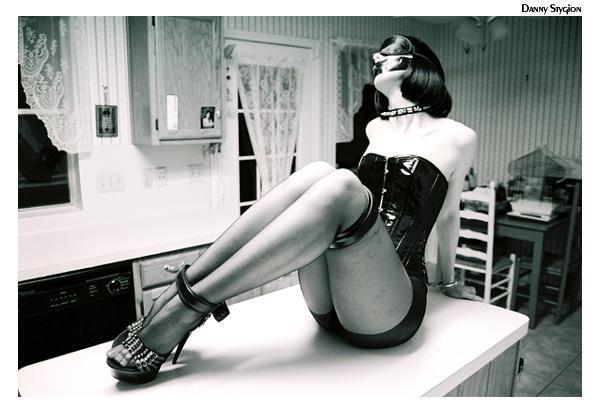 After finishing the first Fifty Shades book I knew I could continue no more. Sorry readers, but I remember how disappointed and embarrassed I was when I finished Breaking Dawn. I can't go through it again. The anger, frustration, and longing for those hours of my life back. I can't invest myself in stupid, poorly made characters anymore. Even if they have a lot of sex. I can't get over this 21-year-old, virgin, non-masturbating version of Bella. She's too naive and lacking. And sexually dominating Christian is more creepy than hot. Think Matthew McConehay in Magic Mike rather than Magic Mike in Magic Mike.
What if "E.L. James" was actually Stephenie Meyer?  Wouldn't that be amazing? She'd be like the smartest woman on Earth. She would have tricked us twice, strung out across seven books! The same bland story over and over again, with messages of Mormon abstinence for the kids and then the adult version featuring the kinkiest, dirtiest sex that a homely teen fan fiction writer could think up, for the jack mormon housewives.
I was hoping the other new mommy porn book, Sylvia Day's Bared to You, would be better. And it was, a bit. The writing certainly was. I believed in the characters of Gideon Cross and Eva Trammel a lot more. They aren't new-to-the-world-virgins. While I appreciate Eva's sexual agency and independence, she still literally falls into the arms of the hottest, richest, most gorgeous, and ripped man ever. This premise is getting kind of old. Especially when Eva, like Bella and Anastasia, isn't really sure why this dreamboat wants to fuck the living day lights out of her. Especially since he's not even a werewolf, or a freaky damaged contract obsessed masochist!
I appreciate that these racy books are coming out acknowledging women's desire. The fact that they're selling like they were the new Harry Potter says that women are sexual and want to read and think about sex. Unfortunately, they also say that while the men and women featured in these titles have amazing, mind blowing sex, it comes at a price. Every big character, except for virginal BellaAnasatia, has a history of sexual abuse. Do normal people have boring vanilla sex and people with fucked up pasts have freaky kinky sex that later gives them nightmares and the inability to let people touch their chests? Why can't we see healthy men and women having freaky healthy sex? Or is it to explain why they have non-vanilla sex, unlike good church wives? I don't get why everyone has to be sexually damaged to be sexual in mommy porn books.
If you're looking for porn I would just look at real porn. These so-called racy books have a lot of sex but little substance…which is actually just like more mainstream porn. But they're like watching really bad amateur porn where the actors are dressed up as rich businessmen and virginal college coeds. Seriously, pass. If you want to read sexy books opt for Anais Nin or Violet Blue compilations or Glen Duncan or anyone else that can write.